ANR 2006 Los Angeles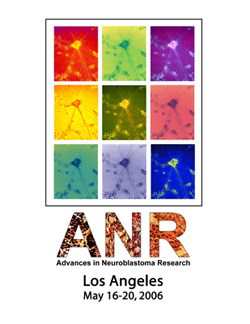 The Advances in Neuroblastoma Research 2006 conference took place from Wednesday, May 17th 2006 through Saturday, May 20th 2006 in Los Angeles, California.
Meeting Photos
Photo galleries will open in a new window.
Click on the thumbnail on your right to download the ANR 2006 Meeting poster.
Download MP3s
MP3 files of music from the ANR Reception on Thursday May 19, 2006
Left-click on the links to play the songs on your computer's default mp3 player.
Right-click and choose "Save Target As..." (in Internet Explorer) or "Save Link As..." (in Firefox) to download the files and save them to your hard drive.
Music by The Flipside

Beth Maldonado - vocals
Karen Givven - flute, piccolo, vocals
Amy Reynolds - bass

John Morzov - guitar, vocals
Mike Sheard - cello, vocals
Patrick Reynolds - guitar, vocals
ANR Meeting: The Movie
ANR Meeting: The Movie is here!
Please click here or on the animated pic above to view or download the movie.
(Right-click and choose "Save Target As.." if you want to save it to your computer.)
ANR Meeting 2006 Poster